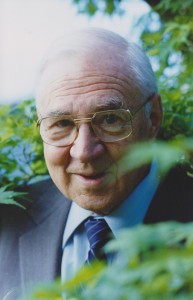 Born in 1910 in Bowral, NSW Australia  Paul had Africa in his blood as long as he could remember. His father captured his imagination with stories of his experiences in the Boer War which left an indelible impression. His father died of menigitis in army camp in 1915, and he was left an only child without his father at five years of age. He inherited his father's storytelling gift along with a mischievous sense of humour.
He committed his life to Christ as a sixteen year old school boy and studied medicine as the next step towards missionary work in Africa. Paul and his wife, Mary, left Sydney, with their small son, David, for Tanganyika in 1938. He always thought of this as his life's work but Mary's severe illness forced their early return to Sydney in 1941. Their daughter, Rosemary, was born while they were overseas.
Within weeks of landing in Sydney, Paul was invited to begin a weekly radio broadcast which spread throughout Australia as the Jungle Doctor broadcasts – the last of these was aired in 1985. The weekly scripts for these programmes became the raw material for the Jungle Doctor hospital stories – a series of twenty books.
Paul always said he preferred life to be a "mixed grill" and so it was: writing, working as a rheumatologist, public speaking, involvement with many Christian organisations, adapting fable stores into multiple forms (comic books, audio cassettes, filmstrips), radio and television, and sharing his love of birds with others by producing bird song cassettes – and much more.
The books in part or whole have been translated into 109 languages.
Paul saw that although his plan to work in Africa for life was turned on its head, in God's better planning he was able to reach more people by coming home than by staying. It was a great joy to meet people over the years who told him they were on their way overseas to work in mission because of the books.
Paul's wife, Mary, died after a long illness in 1970. He married Ruth and they had the joy of working together on many new projects. He died in 1992 but the stories and fables continue to attract an enthusiastic readership of all ages.